APPOINTMENTS
WALK-IN patient's are ALWAYS WELCOME. However, most office patients visits are customarily made by appointments to ensure ample time for your visit. To schedule an appointment please call our offices today. We attempt to schedule appointments in such a manner that delays do not occur. There are some occasions, however, when patients have emergency conditions or problems that require immediate attention.
Please remember that if you need to cancel your appointment, we ask that you give us 24-hours notice to help us offer your date and time to other patients that need it.
INSURANCE & PAYMENT OPTIONS
We are providers that accept most health insurance plans such as Aetna, Blue Cross, Blue Shield, PacifiCare, Medicare, Medical, ASHP etc. We are providers for most HMO/PPO plans and other health plans. We have access to insurance verfication instantly through our internet preferred provider network for your convenience. Your insurance plan can be verified on the same day as your office visit.
Individuals in need of our services who lack insurance and who are worried about the high costs charged by many other clinics need not worry. Our office staff will be more than happy to make financial arrangements with you. We have and interest-free Chiropractic CareCredit plan through which you can make a small monthly payment that fits accordingly to your budget. We have affordable rates and flexible payment plans which allow all patients to receive our high-quality pain-free care either today or when it's most convenient for their schedule. For this reason, many of our current patients refer their friends to us.
For your payment convenience, we accept Visa, MasterCard, Discovery, Personal Checks, Cashier's Check, and Cash.
DEDUCTIBLES & CO-PAYMENTS
Co-payments and deductibles are applied and billed as per insurance guidelines.
MASSAGE THERAPY
Morales Chiropractic-Orthopedic Care offers massage therapy at both the Downey and facilities. Our professional massage therapist team has years of experience in various techniques of massage therapy: Swedish, Deep-Tissue, Shiatsu, Thai, Sports and Maternity among other forms of gentle hands-on techniques. These are available to our patients, friends, and family.
GYM FACILITY WITH PERSONAL EXERCISE TRAINER
We have a professionally-designed exercise gym facility on site. Morales Chiropractic-Orthopedic Care will design a professional custom-made exercise program to fit your needs. We are staffed with a personal trainer who will help you trim your body; sculpture, tone or develop for personal growth, weight loss or general health care needs.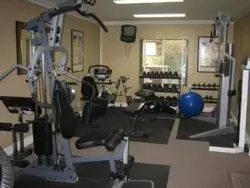 24/7 EMERGENCY SERVICE
As an extra service to our patients Morales Chiropractic-Orthopedic Care provides 24/7 care to our patients when the need arises. We are capable of providing gentle care at either of our facilities whether it be after regular work hours, weekends, or holidays. This includes patients or their loved ones in need of a full X-ray, which can be performed on site.
Our professional services have gained an outstanding record of communication with local emergency room physicians and various medical specialty doctors, should your condition require it. Your case will be handle on a one-to-one basis with the patient's best interest in mind. We normally co-manage a case with your medical doctor or medical provider team.
WE LOVE FRIENDS AND FAMILY REFERRALS
All patients' referrals are given prompt and immediate attention. We value our patients for trusting and referring their loved one to our gentle pain-free care. An in-house incentive program has been designed so that any of staff members can assist you. Thanks to our patients' referrals, we have been growing steadily since 1985. We also continue to regularly update and improve our care with advancements in education.
WE HAVE GIFT CERTIFICATES FOR SPECIAL OCCASIONS
All of our services can be bundled as you like through our beautiful gift certificates so you may celebrate any occasion with your loved ones. This has become a tradition in our local communities for the past years during New Year's Day, Valentine's Day, Mother's Day, Father's Day, summer days, Thanksgiving Day, and the Christmas season.